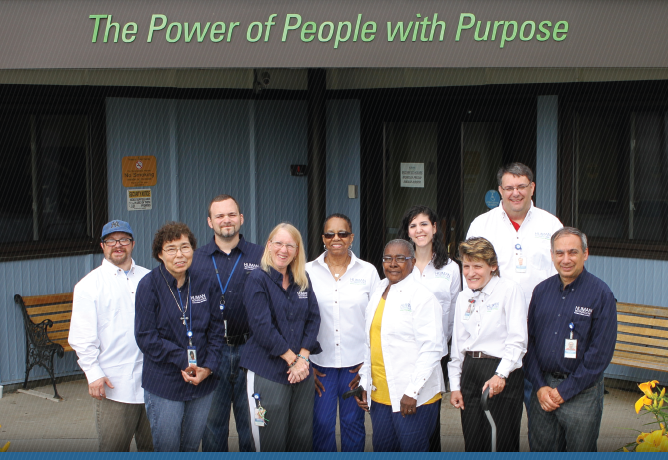 STORIES WITH PURPOSE
The Inspirational Storytellers is a grassroots effort that encourages exceptional Human Technologies employees to share stories of their past, their struggles and their journeys with community groups, government leaders, and other businesses and organizations.
The results are powerful.
As each story unfolds, a transformation occurs within the speaker and the audience that empowers individuals to produce a braver, more cohesive voice for people with disabilities. Read on for more of their stories.
INSPIRATIONAL STORYTELLERS: Sandy's Story
"I've been more of a spectator rather than a player through life – I don't just want to be a player now…I want to be a winner!" – Sandy Shade
A few years ago, Sandy Shade was reserved, timid, unsure, afraid and quiet. Today, she is completely transformed. She has enhanced her skills, learned a variety of jobs, and become a voice for herself and her coworkers. Sandy adds that "people with disabilities are understood here at HTC. Here, we are useful, needed, important, productive and happy."
She is increasingly gaining confidence to participate and be impactful by telling her story and encouraging others to do so. Sandy was an HTC representative at the NISH Grassroots Advocacy Conference in Washington, D.C. in June, 2011. Sandy advocated for herself and for others with disabilities with her congressman and state senator.
She returned to HTC with ideas and vigor and was a founder of the Inspirational Storytellers group, where employees share their personal stories so that they can become better advocates for themselves and their peers. The group continues to grow and produce outstanding results for Human Technologies and the community. Through employment, Sandy has had the opportunity to enhance her life and transform into someone that is confident, admired and an inspiration to many.
Sandy is stepping into her role as a transformed leader and her potential has been unleashed!
The impact that employment for those with disabilities makes is far reaching – it begins by unleashing individual potential and spans into systemic and economic change that positively affects the fabric of entire communities.