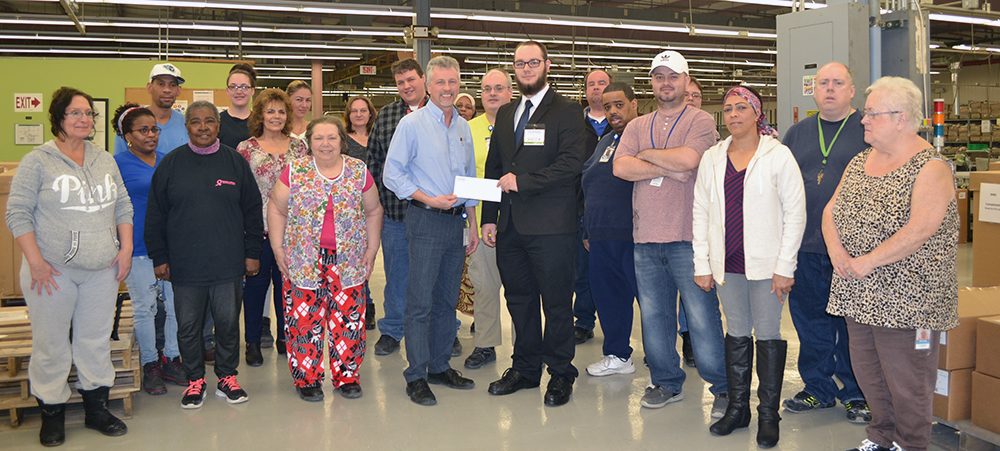 Andrew Beck is a Resident Assistant at the Bellamy dormitory on the campus of Mohawk Valley Community College.  As part of his Civic Engagement responsibility in this role, Andrew was tasked with getting the residents on his floor at Bellamy to interact with outside groups.  He decided the best way to do this was to raise money and make a donation to a local organization. 
Andrew had just completed a course in Lean Six Sigma where the lab work was based out of Human Technologies.  The Mechanical Engineering Technology students in this class would work on real-world problems, utilize the information they were learning in Lean Six Sigma, and draw upon their past engineering knowledge to come up with solutions to not only fix the problems, but do so with an adaptive technology that would make it easier for a person with a disability to perform the job.  Prior to coming to Human Technologies last fall, Andrew had not been exposed to working with people with disabilities.  Andrew remarked how well our people worked and the pride they took in doing their job well.   He also believed in our mission to create employment for people with disabilities.  It was because of this that Andrew decided that the money he raised would be donated to HT.
On January 24th, Andrew conducted his fundraiser.  His goal was to sell lengths of duct tape to his fellow students to be used to secure MVCC's two Residence Directors (RD) to a pole inside one of the dorms (safely & supervised).  By selling tape in increments of 3 yards, Andrew was able to raise $93 which he donated to HT today.  He also raised the RD's as well.  Enough tape was sold over the course of an hour (roughly 380 yards) that the Residence Directors were raised and suspended to a pole a couple of feet off the floor. 
Thank you, Andrew, for your civic responsibility towards your community and your generous donation to Human Technologies.
NOTE:  In September 2018, Human Technologies made its first donation to the MVCC Foundation to create an Engineering Fund to be used for tools, materials, and outsides services in support of any engineering-related projects that will help foster the engineering relationships with local industry that will be beneficial to the student learning experience while creating or enhancing business opportunities in our community.  The money donated by Andrew Beck today will ultimately be donated back to the MVCC Foundation as part of our annual contribution to this Engineering Fund. Full story here.