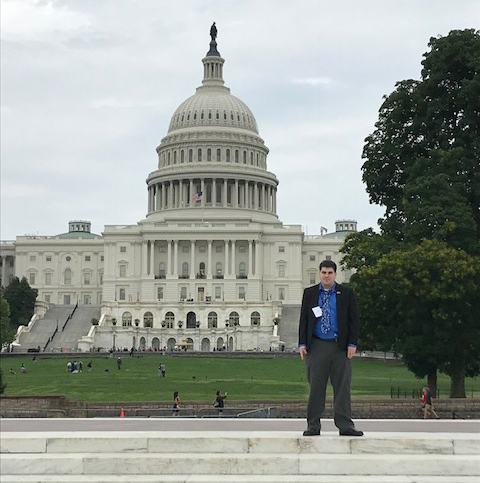 Dylan Wheeler, who works as an Order Filler for Human Technologies' (HT) federal uniform management contracts, recently attended the annual SourceAmerica Grassroots Advocacy Conference in Washington D.C. The three-day conference highlights job creation under the AbilityOne program and provides attendees with public speaking training, education on pending legislation which impacts people with disabilities, and the opportunity to meet with members of Congress and their staff.
Dylan made the rounds on Capitol Hill, meeting with staffers of Congresswoman Claudia Tenney (NY-22), Congressmen John Katko (NY-24), Brian Higgins (NY-27), Senators Kirsten Gillibrand, and Charles Schumer.
Dylan spoke about the work he performs at HT, the types of products that we are supplying our members of the military and some of the places that we ship products. Additionally, he was able to express his personal experiences and views about the Workforce Innovation Opportunity Act (WIOA), which redefines acceptable work settings for people with disabilities in a way which eliminates opportunities to obtain employment. The Rehabilitation Services Administration's (RSA) current interpretation of the law regarding integrated employment, defined as a work setting "typically found in communities", is a misinterpretation of Congress's intent.  The impact of this has Vocational Rehabilitation job placement agencies not considering employment opportunities through mission-driven employers like Human Technologies, particularly if job-seekers would be working on state and federal government contracts.
Dylan's mother, Pat accompanied Dylan and was able to speak about the impact that HT and having the opportunity to work has had on Dylan and their whole family.  She stated that Dylan now engages in family activities and family dinner time!  He is able to share work stories the same as his siblings and parents.  He recently earned his driver's license and drives himself to work every day.  Pat used to bring him to work and pick him up from work every day for the last 5 years.  This is over 35 miles each way!  Work has increased Dylan's self-confidence and his ability to engage more fully at work, at home, and in his community.
Human Technologies has sent employees with disabilities to this conference for eight consecutive years. Linda Forth, Vice President of Human Resources, accompanied Dylan throughout the conference and on their visits to The Hill. "This is a great event, as it creates a real connection between our employees and our elected officials. Our employees have compelling stories to tell. Legislation matters to them and greatly impacts their lives. This gives them the chance to voice their positions face to face and educate them on the impact their decisions have on people with disabilities.  A great motto is "Nothing about us without us. Everyone has a voice."